Nose:  Christmas cake with maraschino cherries and plenty of brandy soaked sultanas.  Quite sweet – heading towards the golden syrup end of the sugary spectrum.  Also some vanilla, and hints of some sweet spices.
Palate:  Sweeter and less fruity than the nose – also a lot less heavy than the nose would suggest.  A few sultanas are still to be found, although they seem to have dumped the brandy.  A little nutty as well, and just a trace of vanilla.
Mouthfeel:  Surprisingly light in the weight department.  Despite the higher alcohol, there is only a very very slight tingle on the tip of the tongue, and no burn at all.
Finish:  Despite the lightweight on the tongue, and a palate that didn't match the thickness on the nose, the finish is quite long.  Some oak spices are present on the finish, accompanied by that golden syrup that was present on the nose.
Balance:  Apart from the disappointing lack of heft in the weight of this whisky, this is a very well balanced, if perhaps a touch too sweet, whisky.  Great for well after dinner on late winter nights.
[divider]
A marriage of 20 casks – 17 Bourbon barrels, 2 sherry butts, and 1 port pipe; chosen from Glenfiddich's warehouses by 20 different Glenfiddich ambassadors from 16 different countries, and blended by Glenfiddich malt master / William Grant & Sons master blender Brian Kinsman.  Bottled at 47% – a little higher than normal for Glenfiddich, but probably the perfect strength for this whisky.  This whisky was also bottled with no chill-filtering.
Glenfiddich describes this whisky as "summer fruits & candy floss", which is not at all what I got from it – either I'm broken, or summer fruits & candy floss are completely different in Scotland!  I do get a lot of sweetness, but more winter fruits & golden syrup.
This is the second whisky that has been released recently by William Grant & Sons in Australia that has been a marriage of multiple casks that were chosen by people from outside the distillery.  The first one having been the Rare Cask Reserves: Cruinnich – which was an Australian exclusive release. The XX is definitely the better release – perhaps having everyone in the whisky industry, and working for the same whisky company, helped create a whisky with more cohesion.
This is also the second whisky in Glenfiddich's new "experimental releases", with the first being the Glenfiddich IPA – which was finished in casks that had been seasoned with a specially designed Indian Pale Ale beer.  It is refreshing to see such a large distiller, even if still family-owned like William Grant & Sons is, playing with new ideas and releasing one-off whiskies.
With the release of this whisky, Glenfiddich also provided a chart showing which casks were chosen, and by which ambassadors they were chosen by – which you can view here (click to open at full size):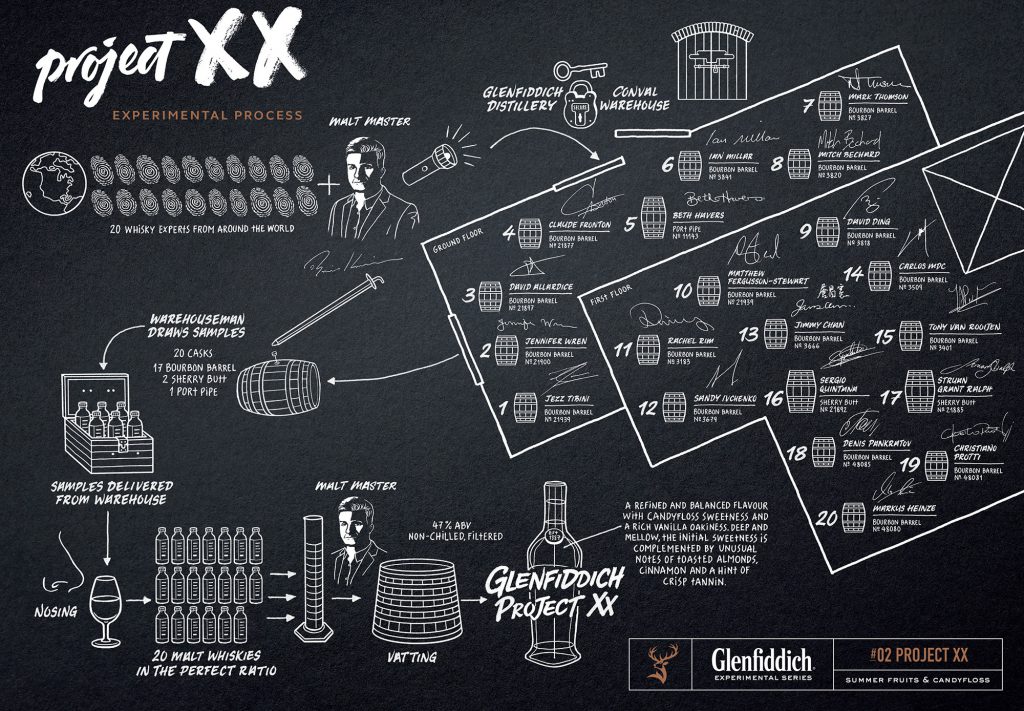 The Ninja's numbers - A completely subjective score.